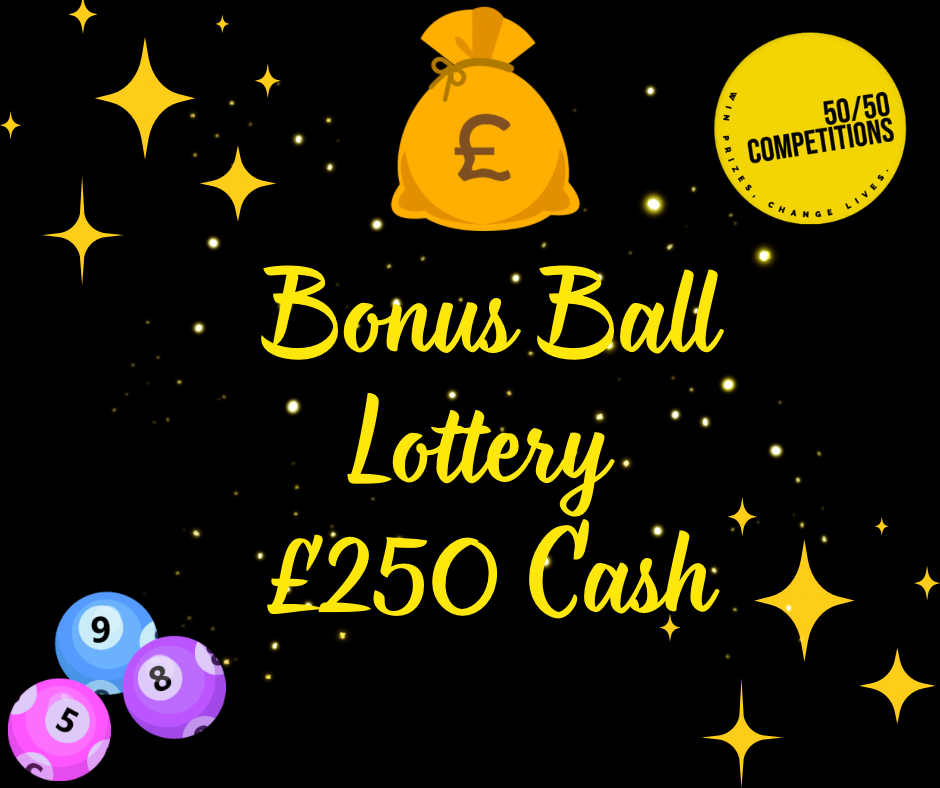 Bonus Ball Lottery £250 Cash
Win £250 cash in our exclusive Bonus Ball Competition! Only 59 spots available, so act fast!
Don't miss out on this incredible opportunity to win big – this is drawn from the Wednesday or Saturday UK National lottery! With limited numbers available, your chances of winning are higher than ever!
Only £5 per number!
*Once sold out, the bonus ball will be based on the next Wednesday or Saturday draw.
| Winner Name | Ticket Number | Draw Date |
| --- | --- | --- |
| Elaine Callaghan | 6 | 28/10/2023 |
| Ticket Number | Date | Name |
| --- | --- | --- |
| 1 | 2023-10-25 19:39:17 | kirstyehbrown |
| 2 | 2023-10-27 07:56:14 | Darren c |
| 3 | 2023-10-27 18:57:52 | Tim D |
| 4 | 2023-10-25 23:17:06 | Lisa Noddings |
| 5 | 2023-10-28 07:17:40 | Margaret Cunning Coyle |
| 6 | 2023-10-27 19:02:23 | Elaine Callaghan |
| 7 | 2023-10-24 18:33:41 | threemcds |
| 8 | 2023-10-27 19:03:28 | colin_dowd |
| 9 | 2023-10-27 21:32:16 | Patsy McKay |
| 10 | 2023-10-27 18:41:55 | lizzyjeanwhite |
| 11 | 2023-10-23 10:18:59 | Nicola Simpson |
| 12 | 2023-10-24 06:22:52 | Joyce Sharp |
| 13 | 2023-10-25 19:28:09 | Carol-Ann Thain |
| 14 | 2023-10-23 08:33:26 | aimeeb09 |
| 15 | 2023-10-23 14:05:25 | Agnes O'brien |
| 16 | 2023-10-27 18:41:55 | lizzyjeanwhite |
| 17 | 2023-10-23 10:24:28 | Brenda Robb |
| 18 | 2023-10-23 14:05:25 | Agnes O'brien |
| 19 | 2023-10-24 09:34:55 | Karen Marie McShane |
| 20 | 2023-10-25 17:50:05 | Patricia Fleming |
| 21 | 2023-10-25 17:50:05 | Patricia Fleming |
| 22 | 2023-10-23 17:59:21 | Lynn Reilly |
| 23 | 2023-10-23 07:15:31 | raeramsey |
| 24 | 2023-10-23 10:21:49 | carri58 |
| 25 | 2023-10-23 08:57:11 | Diane Boyd |
| 26 | 2023-10-24 19:23:29 | mairi.raphel |
| 27 | 2023-10-23 07:04:28 | sheilamckean |
| 28 | 2023-10-23 10:18:59 | Nicola Simpson |
| 29 | 2023-10-23 07:48:18 | Patricia Fleming |
| 30 | 2023-10-27 19:14:57 | Margaret McGuigan |
| 31 | 2023-10-27 16:33:08 | Agnes O'brien |
| 32 | 2023-10-28 07:43:58 | denisekeany |
| 33 | 2023-10-27 19:29:52 | louisajp |
| 34 | 2023-10-23 10:24:28 | Brenda Robb |
| 35 | 2023-10-27 22:03:44 | robinmac |
| 36 | 2023-10-23 08:11:32 | Margaret Cunning Coyle |
| 37 | 2023-10-27 18:05:45 | Tim D |
| 38 | 2023-10-25 16:08:24 | mgill81 |
| 39 | 2023-10-28 07:27:44 | c1990r |
| 40 | 2023-10-26 17:37:46 | Joan Longmuir |
| 41 | 2023-10-25 18:17:25 | mairi.raphel |
| 42 | 2023-10-27 18:49:08 | Jackie ferrie |
| 43 | 2023-10-23 14:19:11 | marion2110 |
| 44 | 2023-10-25 16:36:17 | Ann Callaghan |
| 45 | 2023-10-27 20:43:51 | ann.watson1611 |
| 46 | 2023-10-25 16:04:22 | clare Kennedy |
| 47 | 2023-10-23 16:36:04 | Margaret Ann Halliday |
| 48 | 2023-10-27 21:02:18 | Caroline Magowan |
| 49 | 2023-10-25 16:46:02 | McLaughlin Lorraine |
| 50 | 2023-10-25 16:25:54 | Linda Payne |
| 51 | 2023-10-23 07:31:28 | Margaret Ann Halliday |
| 52 | 2023-10-25 17:56:52 | julesa46 |
| 53 | 2023-10-24 19:36:05 | terrigee50 |
| 54 | 2023-10-23 08:43:20 | sharonmccafferty |
| 55 | 2023-10-27 18:41:55 | lizzyjeanwhite |
| 56 | 2023-10-27 18:41:55 | lizzyjeanwhite |
| 57 | 2023-10-25 19:15:52 | aileenhiggins-2386 |
| 58 | 2023-10-27 09:20:04 | eileen.hyland |
| 59 | 2023-10-23 09:50:25 | Mclaughlin Karen |