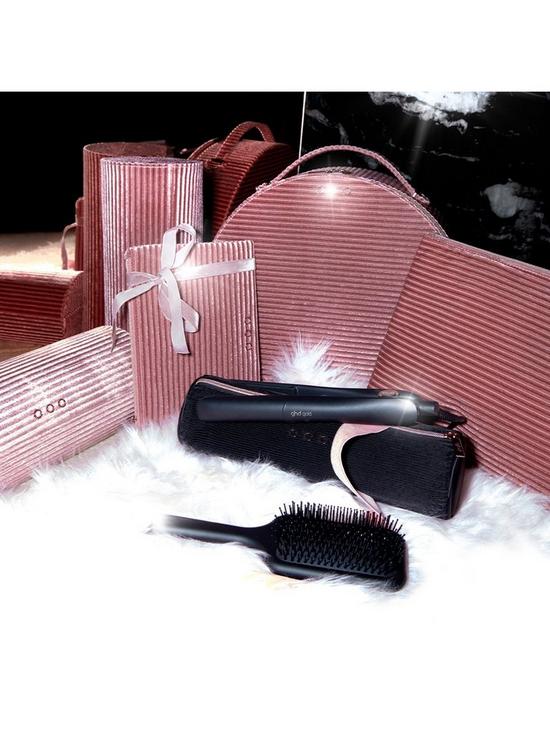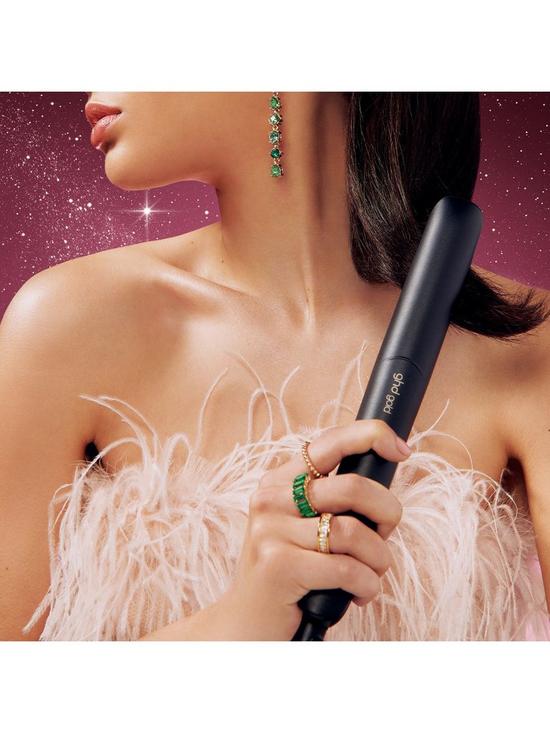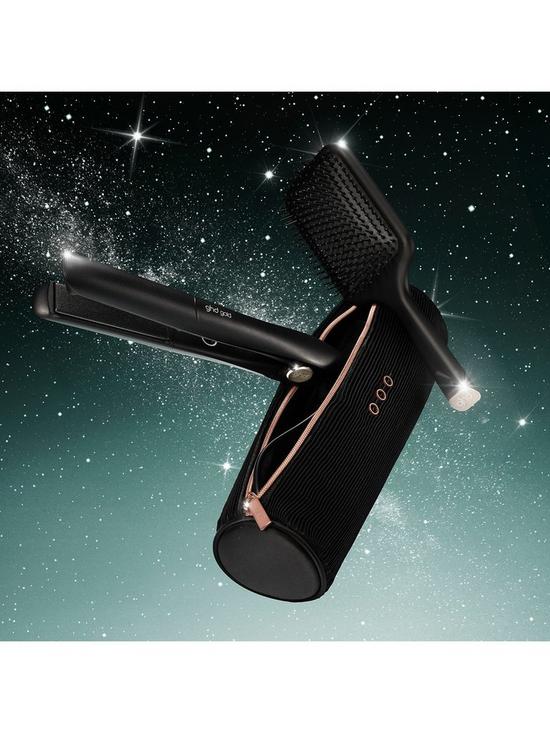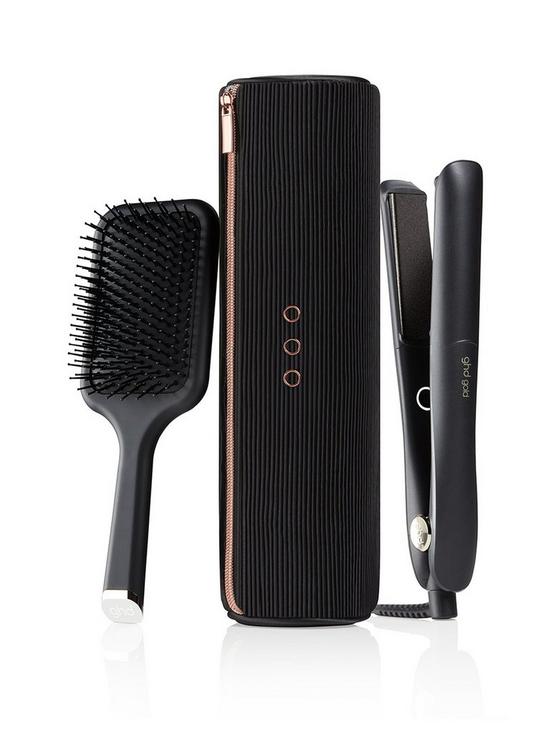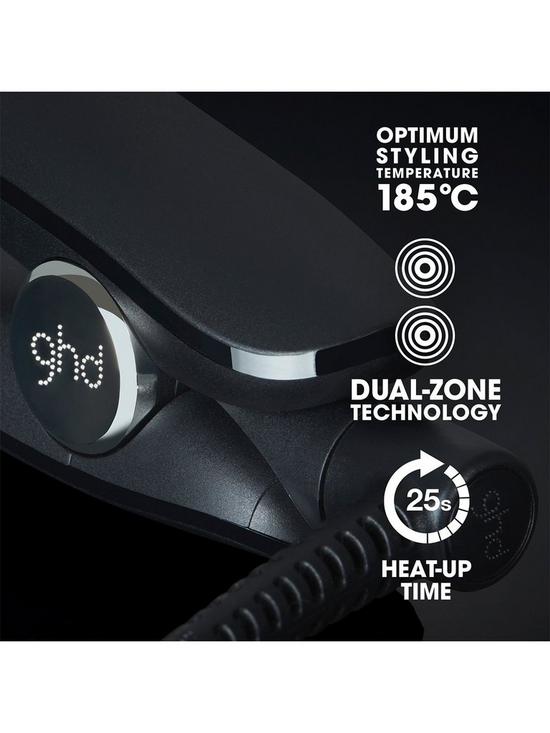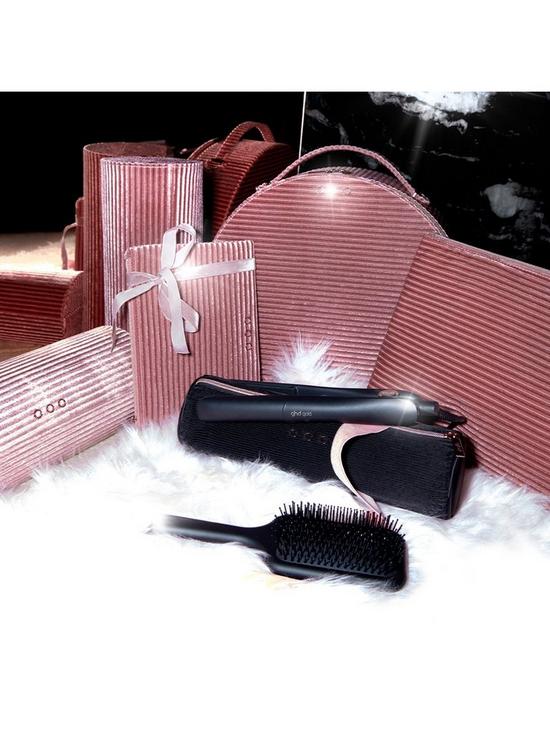 GHD Festive Edition Straightener Gift Set
Experience the legend of good hair days with the ghd gold gift set. Discover the gold advanced styler, accompanied by the ghd all-rounder paddle brush and heat-resistant bag.
Create instantly sleek, silky and smoother hair with the ghd gold styler, featuring Dual-zone technology which contains a heater system to control the optimum styling temperature of 185°C consistently across both plates.
The ceramic floating plates are smooth with a high gloss coating, eliminating frizz and providing shinier, healthier looking hair making it perfect for everyday styling. With the sleek rounded design and curved edges you can create an array of styles from straight to curls and waves, snag-free and easily, gliding through hair with less breakage**.
Smooth and set your style with the ghd all-rounder paddle brush for a professional finish that'll last through your festive celebrations.
Protect your styler and your surfaces with the coordinating heat-resistant bag* and discover your inner hair goddess.
*Sleeker, smoother hair with 65% more shine* due to the next-generation heat sensors.
*Premium performance with dual-zone ceramic technology.
*Minimised hair damage and breakage using the optimal styling temperature of 185ºC.
*Create a multitude of looks and snag-free styling with the sleek design and round barrel.
*Safety & Guarantee: 25 second heat-up; automatic sleep mode after 30 minutes of non-use; protective plate guard.
*Increased Convenience: 2.7m swivel cord; universal voltage
*2 year warranty
*Heat-resistant carry case should only be used with ghd products
**proven to increase shine vs naturally dried hair
Enter now to be in with a chance of winning!!
| Winner Name | Ticket Number | Draw Date |
| --- | --- | --- |
| Marie coghill | 102 | 11/11/2023 |
| Ticket Number | Date | Name |
| --- | --- | --- |
| 1 | 2023-11-08 19:04:41 | Christina R Keeney |
| 2 | 2023-11-08 18:26:59 | Fran Steven |
| 3 | 2023-11-08 19:43:57 | threemcds |
| 4 | 2023-11-08 18:40:08 | jackiebobs |
| 5 | 2023-11-08 18:02:04 | Elaine McCue |
| 6 | 2023-11-08 19:25:28 | Lindsay Guthrie |
| 7 | 2023-11-08 21:13:27 | Margaret watson |
| 8 | 2023-11-09 11:42:29 | Kelly Gillies |
| 9 | 2023-11-08 22:34:03 | Patricia Fleming |
| 10 | 2023-11-08 20:35:56 | Nic Mcg |
| 11 | 2023-11-08 22:05:52 | sgordon321 |
| 12 | 2023-11-08 22:05:52 | sgordon321 |
| 13 | 2023-11-08 18:19:01 | Marie coghill |
| 14 | 2023-11-08 18:28:56 | Mclaughlin Karen |
| 15 | 2023-11-08 18:06:46 | Michelle Coley |
| 16 | 2023-11-08 19:43:57 | threemcds |
| 17 | 2023-11-08 18:35:40 | sarahstower01 |
| 18 | 2023-11-08 18:12:37 | annmcfarlane55 |
| 19 | 2023-11-08 22:34:13 | Chrissy Rooney |
| 20 | 2023-11-08 19:39:22 | lmccann1815 |
| 21 | 2023-11-08 19:39:22 | lmccann1815 |
| 22 | 2023-11-08 20:12:38 | Jennifer Wylie |
| 23 | 2023-11-08 18:34:42 | Amanda Humphrey |
| 24 | 2023-11-08 20:44:49 | eileen.cusack |
| 25 | 2023-11-08 20:20:37 | Marie Claire McNeil |
| 26 | 2023-11-08 18:09:45 | Amanda Carty |
| 27 | 2023-11-08 18:22:26 | Jacklyn Galloway |
| 28 | 2023-11-10 08:15:52 | Margaret Cunning Coyle |
| 29 | 2023-11-08 18:40:08 | jackiebobs |
| 30 | 2023-11-08 18:19:01 | Marie coghill |
| 31 | 2023-11-08 18:13:05 | Lisa Noddings |
| 32 | 2023-11-08 22:34:03 | Patricia Fleming |
| 33 | 2023-11-08 19:32:06 | milly04 |
| 34 | 2023-11-08 22:34:03 | Patricia Fleming |
| 35 | 2023-11-09 21:39:18 | Denise Gregory |
| 36 | 2023-11-08 19:39:22 | lmccann1815 |
| 37 | 2023-11-08 23:16:31 | Pamela Summers |
| 38 | 2023-11-08 19:32:06 | milly04 |
| 39 | 2023-11-08 18:26:28 | Elise Macdonald |
| 40 | 2023-11-09 17:37:48 | gemma-watts |
| 41 | 2023-11-08 21:41:08 | Tracy Summers |
| 42 | 2023-11-08 18:23:41 | Anne Marie Mcilwraith |
| 43 | 2023-11-09 20:23:03 | vicky.boyd70 |
| 44 | 2023-11-09 10:46:14 | Pauline Alison |
| 45 | 2023-11-08 20:31:08 | Lisa Towill |
| 46 | 2023-11-09 20:23:03 | vicky.boyd70 |
| 47 | 2023-11-08 18:13:05 | Lisa Noddings |
| 48 | 2023-11-08 18:34:42 | Amanda Humphrey |
| 49 | 2023-11-10 09:11:24 | Mandy Aird |
| 50 | 2023-11-08 18:19:01 | Marie coghill |
| 51 | 2023-11-08 18:09:02 | Margaret Semple |
| 52 | 2023-11-08 21:13:27 | Margaret watson |
| 53 | 2023-11-08 19:04:41 | Christina R Keeney |
| 54 | 2023-11-08 18:50:28 | Tracey Gordon |
| 55 | 2023-11-08 18:34:42 | Amanda Humphrey |
| 56 | 2023-11-09 17:31:51 | Ann Callaghan |
| 57 | 2023-11-08 19:30:44 | Natasha Mulholland |
| 58 | 2023-11-08 23:25:43 | Lorraine Macis |
| 59 | 2023-11-08 22:34:13 | Chrissy Rooney |
| 60 | 2023-11-08 18:34:42 | Amanda Humphrey |
| 61 | 2023-11-08 19:36:24 | aileenhiggins-2386 |
| 62 | 2023-11-08 22:05:03 | eyoungones |
| 63 | 2023-11-08 19:30:44 | Natasha Mulholland |
| 64 | 2023-11-08 22:34:03 | Patricia Fleming |
| 65 | 2023-11-08 23:10:10 | carol.cross03 |
| 66 | 2023-11-08 20:31:08 | Lisa Towill |
| 67 | 2023-11-08 20:20:37 | Marie Claire McNeil |
| 68 | 2023-11-08 22:34:13 | Chrissy Rooney |
| 69 | 2023-11-08 19:32:06 | milly04 |
| 70 | 2023-11-08 19:04:41 | Christina R Keeney |
| 71 | 2023-11-08 22:34:03 | Patricia Fleming |
| 72 | 2023-11-08 18:33:51 | Margaret Ann Halliday |
| 73 | 2023-11-10 10:01:25 | rose.mcewan |
| 74 | 2023-11-08 19:39:22 | lmccann1815 |
| 75 | 2023-11-09 17:31:51 | Ann Callaghan |
| 76 | 2023-11-08 18:34:42 | Amanda Humphrey |
| 77 | 2023-11-09 10:34:55 | Vicky Hailey |
| 78 | 2023-11-10 09:11:24 | Mandy Aird |
| 79 | 2023-11-08 22:13:15 | Michelle Cairns |
| 80 | 2023-11-10 16:23:34 | Patricia Fleming |
| 81 | 2023-11-08 19:30:44 | Natasha Mulholland |
| 82 | 2023-11-08 19:39:22 | lmccann1815 |
| 83 | 2023-11-08 19:25:59 | Catherine Anne Lennon |
| 84 | 2023-11-08 18:50:45 | joankerr85 |
| 85 | 2023-11-08 18:13:05 | Lisa Noddings |
| 86 | 2023-11-09 20:23:03 | vicky.boyd70 |
| 87 | 2023-11-09 14:29:14 | Liz Sweeney |
| 88 | 2023-11-09 17:37:48 | gemma-watts |
| 89 | 2023-11-10 08:27:55 | paulineblake144 |
| 90 | 2023-11-09 10:46:14 | Pauline Alison |
| 91 | 2023-11-08 18:23:41 | Anne Marie Mcilwraith |
| 92 | 2023-11-09 11:22:29 | Jan Prestly |
| 93 | 2023-11-10 19:27:09 | Jacqueline Roebuck |
| 94 | 2023-11-08 19:49:39 | bigsiskirsty1972 |
| 95 | 2023-11-08 18:34:42 | Amanda Humphrey |
| 96 | 2023-11-09 21:53:15 | forsyth-emma |
| 97 | 2023-11-10 13:24:30 | maureen.brown22-1010 |
| 98 | 2023-11-08 20:03:00 | Nicola Slavin |
| 99 | 2023-11-09 14:14:24 | angelahainey |
| 100 | 2023-11-08 23:10:10 | carol.cross03 |